A gift to celebrate 12 years of FKP establishment, Marine Science Study Program achieved BAN-PT accreditation with the 'Superior' category
Posted by: Admin
Kamis, 5 Oktober 2023
Has been read 0 time(s)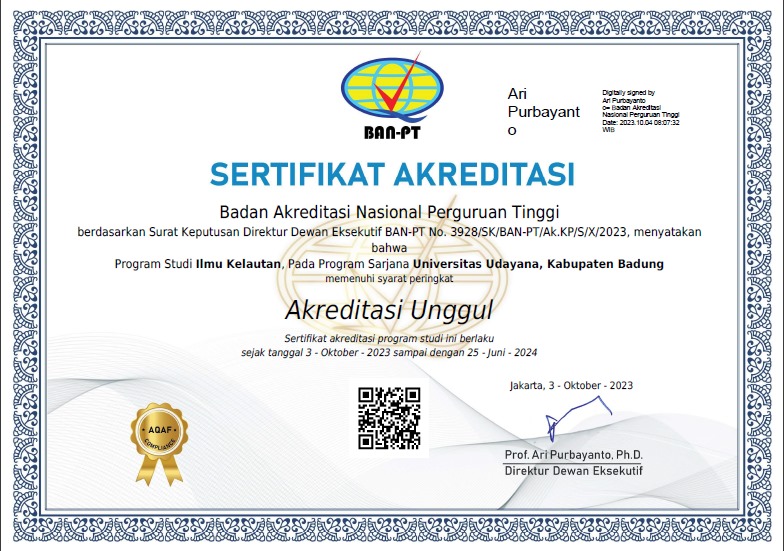 The accreditation process aims to ensure that the institution or program has adequate quality in accordance with established standards. It provides confidence to the public that the services provided by the institution meet accepted standards.

Ahead of celebrating the 12th anniversary of the Faculty of Marine and Fisheries (FKP), on October 10, 2023, the entire academic community received happy news about the success of one of its study programs, namely Marine Science (IKL) which managed to obtain BAN-PT accreditation status with the superior category. The certificate with BAN-PT number No. 3928/SK/BAN-PT/Ak.KP/S/X/2023 is valid for October 3, 2023 - June 25, 2024 signed directly by the Director of the BAN-PT Executive Board, Prof. Ari Purbayanto, Ph.D.. With the superior category of the IKL study program, the number of study programs in Udayana University that are nationally accredited superior has increased, following 10 other study programs, namely the Agribusiness S1 Study Program, Animal Husbandry S1 Study Program, Information Technology S1 Study Program, Agribusiness Master Study Program, Agricultural Biotechnology Master Study Program, Animal Science Master Study Program, Tourism Master Study Program, Kenotariatan Master Study Program, Chemistry Master Study Program, Management Master Study Program.

This proud achievement cannot be separated from the dedication in each work unit, starting from the level of study programs, faculties, to universities. This strong dedication has succeeded in forming a collaboration so that the UNUD Marine Science Undergraduate Study Program has achieved Superior Accreditation. In a separate interview, the Dean of the Faculty of Marine and Fisheries of Udayana University, Prof. Dr. Ir. I Wayan Nuarsa, M.Si stated that the achievement of national accreditation with the Superior category is an achievement as well as a challenge for the IKL study program to continue to spur itself to be better. "We are certainly proud of this achievement with the Superior category, this good news is a special gift on the 12th anniversary of FKP. This is also a tangible manifestation of our commitment as an organizer of higher education in the field of marine and fisheries to continue to develop in a more advanced, modern and innovative direction, 'he concluded.